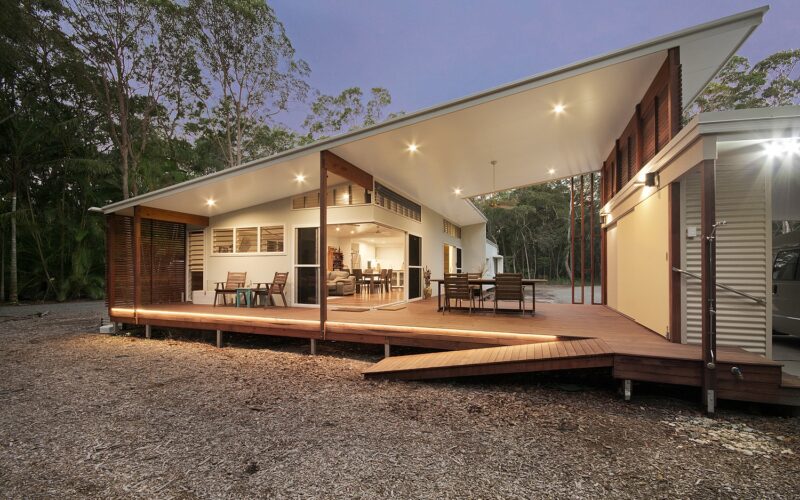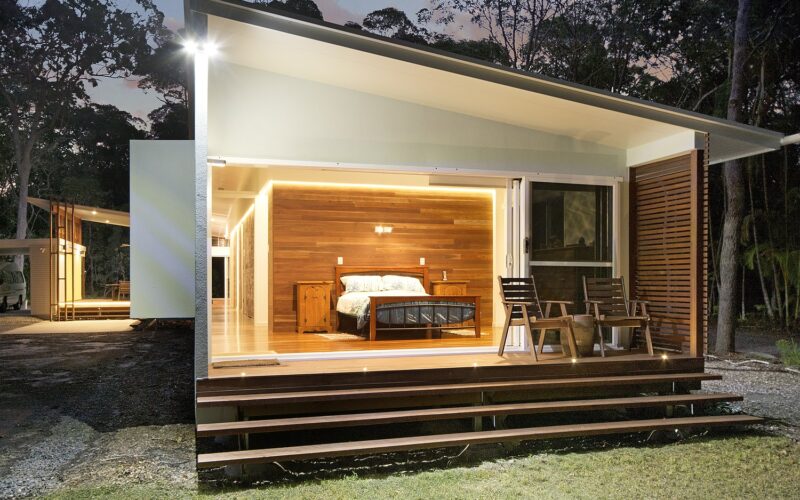 Mudjimba House
Mudjimba (address confirmed when booking secured)
Architect:
Chris Klar Architects
Awards:
2016 - Sunshine Coast Region and Queensland State Award - Master Builders Housing & Construction Awards
The Mudjimba house is located between Mudjimba beach and the Twin Waters Resort. The house was designed for a couple relocating from Brisbane who wanted to enjoy a lifestyle not unlike camping, with a relaxed beachshack feel and sustainable living. They wanted to live without air-conditioning. As the site has no town water or sewerage, the design incorporates rainwater harvesting for all water use and secondary treatment of sewage and sullage waste. The house takes advantage of the long East-West site axis by orienting the house due North. The floor plan is long and attenuated to essentially provide a one-room wide layout, thus maximising cross-ventilation and solar access. It was a local authority requirement that the house have a floor level approximately 600mm above site levels. This allowed the house to sit lightly on the site, connected seamlessly with easy access to and from the single long floor level by wide stairs and ramps. The house is a simple skillion roofed, timber-framed building. To allow open space internally now and in the future, the roof is framed with a sandwich-panel roof system, spanning the full width of the house, creating a feeling of spaciousness in what is a small house. Extending the simple and relaxed living pattern, design features incorporate openings at each end of the house to decks and the outdoors, a courtyard off the bathroom and the laundry is located on the verandah, behind large sliding timber doors. This is all part of the relaxed and indoor-outdoor planning of the house.
Booking:
Bookings open on Wednesday 9 October at 9am. To secure your booking visit this building page, click on the "BOOK NOW" button and follow the prompts through the Eventbrite website. To ensure a fair allocation there will be a limited ticket allocation per person. Bookings will be taken on a first come, first served basis. Pre-booked tours will book out quickly. There will be no waitlists, so if you miss out, please check back in case others cancel.