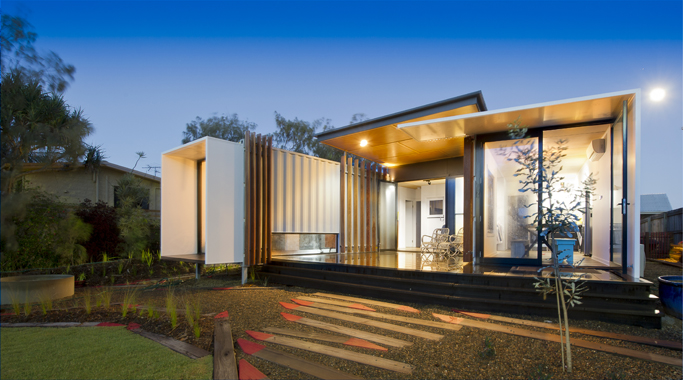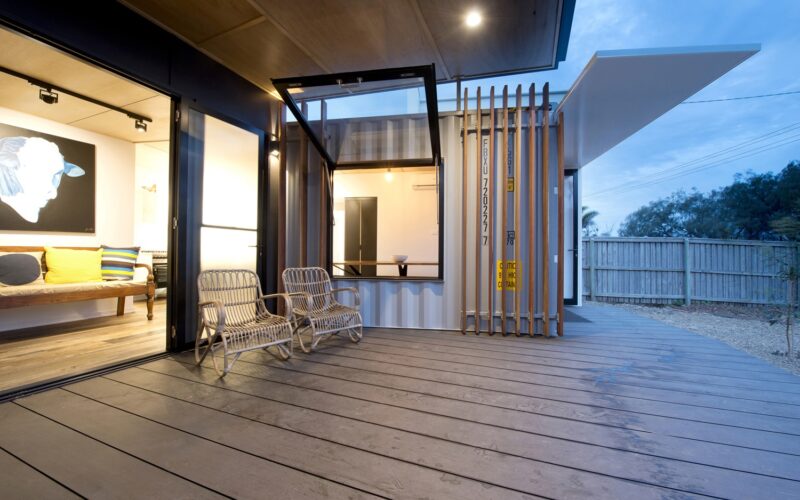 Beach Box Buddina
Buddina (address confirmed when booking secured)
Precinct:
Maroochydore / Buderim
Architect:
OGE Group Architects
Awards:
2014 - Gabriel Poole Award for Building of the year - AIA
2014 - Regional Commendation - AIA
The Beach Box Buddina is a modern day beach shack which uses three shipping containers as the primary building blocks. Features such as full height glazing to the ends of the modules, hardwood timber cladding fins, plywood lined roof over the deck and the sleek white alpolic awnings, create a striking architectural composition. The plan arrangement of the three modules at splayed angles and separated from each other with linking decks and an internal sitting area, create a dynamic and playful series of spaces. Distinctive landscaping features including extensivecustom cut and painted sleepers, painted edge timber screen fences, and gabion blocks to the front footpath line, complement the building and bring refinement to the project as a whole. Internally, an exquisite floor consisting of recycled traditional Chinese painted door timbers made into an engineered flooring system brings an edge of difference and luxury to the interior, along with whitewashed plywood ceilings, and crafty and modern soft furnishings and artworks. The Beach Box is a unique architectural project which has successfully utilised a very raw building module to create a building of surprising substance and refinement, and one which opens up absolutely to celebrate its oceanfront location.
Booking:
Bookings open on Wednesday 10 October at 9am. To secure your booking visit this building page, click on the "BOOK NOW" button and follow the prompts through the Eventbrite website. To ensure a fair allocation there will be a limited ticket allocation per person. Bookings will be taken on a first come, first served basis. Pre-booked tours will book out quickly. There will be no waitlists, so if you miss out, please check back in case others cancel.