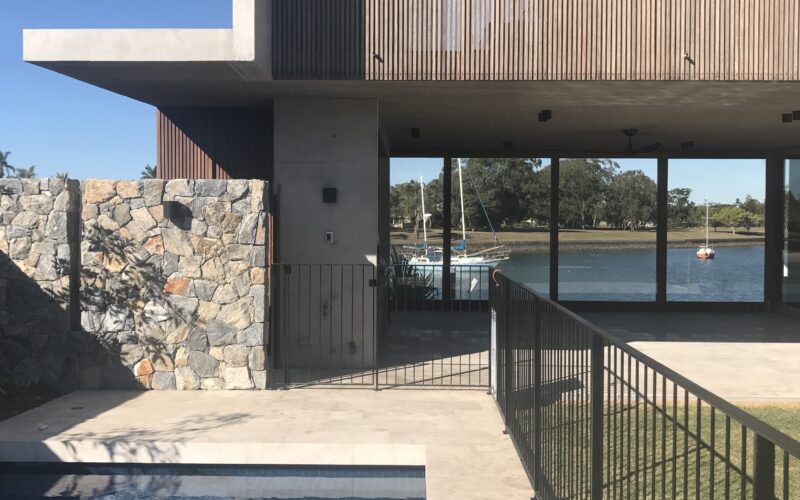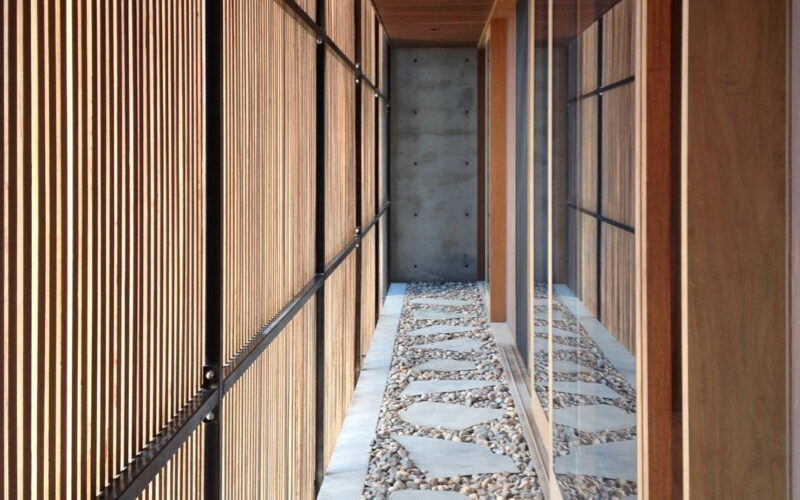 V House
Minyama (address confirmed when booking secured
Architect:
Shaun Lockyer Architects
V House is a Brazilian-Modernist inspired courtyard home built from off-form concrete, stone and timber, along the banks of the Mooloolah River. The idea for this home is all about simple forms and honest, robust materials. The defining architectural expression is the large homogeneous iron bark timber screen wall that forms a double façade on the otherwise single depth floor plan. The living spaces form a transparent spine which mediates between the intimacy of the internal, north facing courtyard and the extroversion of the compressed waterfront edge that incorporates a fire pit shrouded in a landscaped berm above the pontoon space. Operable walls and screens offer degrees of enclosure and engagement that occupants can calibrate to suit their needs. Strong planes of timber and concrete internally create for a rich, robust and textural backdrop to the environment and furnishings, all heightened by the carefully curated play of light and shadow throughout the home. This is a house that is all about the location, the context and the lifestyle. A strong emphasis on landscape softening completes the story of this sub-tropical island home.
Booking:
Bookings open on Wednesday 11 October at 9am. To secure your booking visit this building page, click on the "BOOK NOW" button and follow the prompts through the Eventbrite website. To ensure a fair allocation there will be a limited ticket allocation per person. Bookings will be taken on a first come, first served basis. Pre-booked tours will book out quickly. There will be no waitlists, so if you miss out, please check back in case others cancel.