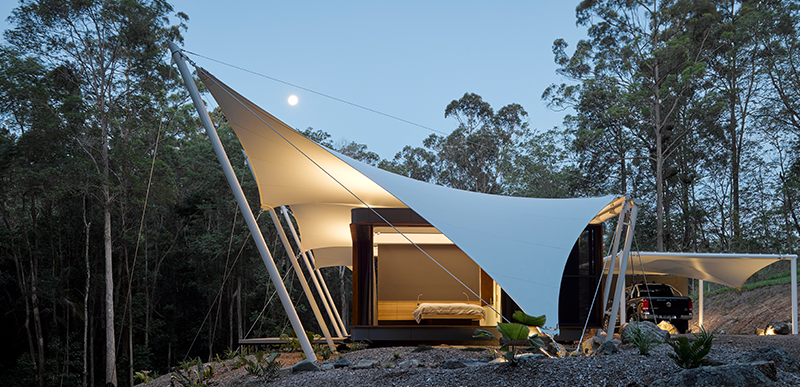 Tent House
Address to be announced.
Precinct:
Noosa / Noosa Hinterland
Architect:
Sparks Architects
This forest clearing addressing a pocket of rainforest in the Noosa hinterland is approached through a typical neighbourhood of rural houses and acreage dwellings. The journey to the house continues from the street via a winding bush track through the forest which acts as a threshold between the constructed world and that of the clearing, a place remnant of early settlement in the region; a camp. Flanking the northern side of the camp is a lush tropical wall of trees, 40m tall. A small creek along this boundary also provides a riparian corridor for local flora and fauna. Due to the limited size of the clearing the house needed to address the full height of the forest 'wall' and look to capture the sky above, or risk a feeling of confinement. The scale and density of the surrounding forest also reduces winter sun penetration and ultimately creates its own micro-climate. The brief called for a 4 bedroom family dwelling with a central open plan living and kitchen space. Responding to this and the unique site, the living space feeds to east and west corridors providing bedroom access, and nooks for study, day bed and storage. The pavilion running along the east-west contour allows all rooms to enjoy the rainforest view to the north maximising winter solar gain. The architectural response is a dual concept pairing an operable insulated box for cooler months that allows habitation to a tent-like amenity in warmer months. The walls, or doors, of the box slide open manually, while the roof, or lid, has an automated sliding operation. With the roof fully open the translucent tent membrane comes into view and a new volume, light, and material is experienced. As the doors slide open the forest wall becomes an architectural element; a natural wall that contains a broader space of the house plan, stretching it across the remaining clearing and garden. The tent roof serves as a 'fly roof' above the insulated roof and takes the brunt of the heat load. The void between the two roof elements allows for a simple stack ventilation process. The varied pitches of the tent roof maximise winter sun penetration and protects the east, west and southern exposures. This deceptively small yet undeniably dynamic building allows for the owners to live simply and comfortably whilst maximising their engagement with a very special site.
Booking:
Bookings open on Wednesday 11 October at 9am. To secure your booking visit this building page, click on the "BOOK NOW" button and follow the prompts through the Eventbrite website. To ensure a fair allocation there will be a limited ticket allocation per person. Bookings will be taken on a first come, first served basis. Pre-booked tours will book out quickly. There will be no waitlists, so if you miss out, please check back in case others cancel.