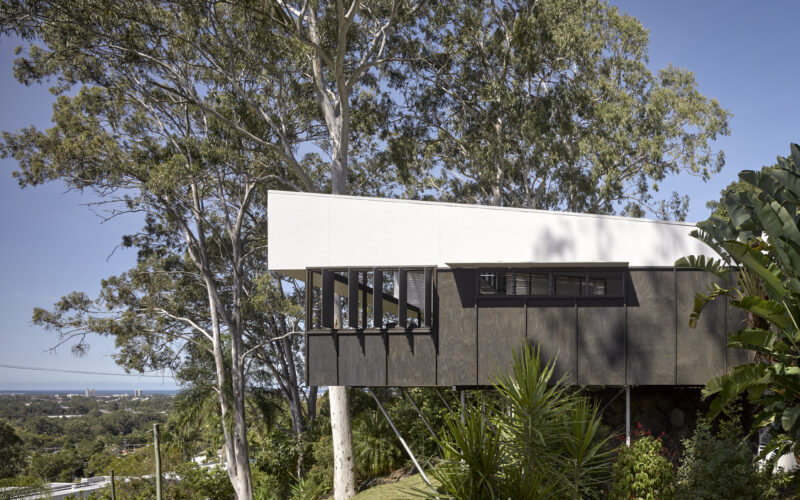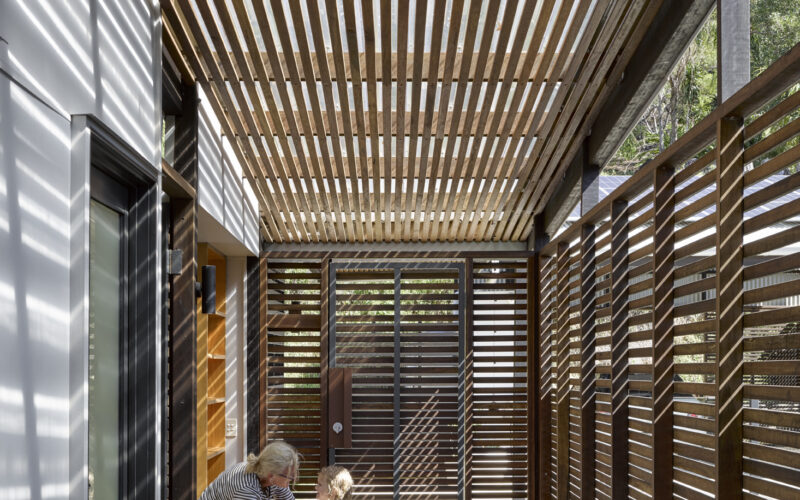 Two Tree House
Buderim (address confirmed when booking secured)
Precinct:
Maroochydore / Buderim
Architect:
Bark Architects
Cantilevering high above the steep northern escarpment of Buderim Mountain, this young family's 'Tree House' nods to the majestic Eucalypts, which frame the broad views of the Sunshine Coast from its large breezy decks in the subtropics. From the light filtering breezeway, past the inviting plunge pool, this is a home for a trusting client with a modest budget, which was designed to be a modern, timeless, sustainable and climatic response for outdoor living and welcoming spaces within a smart modular structure. Modular living and sleeping pavilions are gathered together on a uspended timber platform connected by an open 'breezeway' and verandah spaces which provide external circulation between indoor and outdoor living whilst optimising the climate and connecting the occupants to nature and the immediate and broader landscape. The swimming pool court anchors the single level house to the tenuous rocky slope and enables its lightweight platform to hover high above its terrain providing prospect over the Sunshine Coast hinterland. 'Two Tree House' preserves and celebrates the magnificence of two ancient 'Flooded Gum', Australian Eucalypts within the spirit of its place.
Booking:
Bookings open on Wednesday 9 October at 9am. To secure your booking visit this building page, click on the "BOOK NOW" button and follow the prompts through the Eventbrite website. To ensure a fair allocation there will be a limited ticket allocation per person. Bookings will be taken on a first come, first served basis. Pre-booked tours will book out quickly. There will be no waitlists, so if you miss out, please check back in case others cancel.