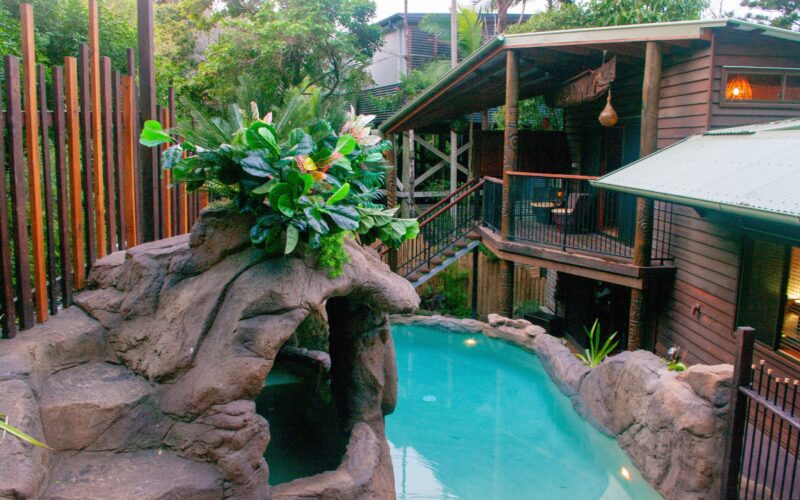 LuWow Lodge
Coolum (address confirmed when booking secured)
Architect:
Archicology Architects
Archicology Architects grappled with the 30 year old timber building, a difficult site and skewed orientation, but ultimately this residence is unique, it is playful and it works. The building itself was completely refurbished and reconfigured to ensure its orientation works. One side has fabulous views of the ocean and jungle below, but is entirely exposed, while the other side takes advantage of the Northern sun and acts as a retreat and fun park. The clients have travelled extensively throughout the Pacific Islands and the home enjoys a South Sea Islander aesthetic. The fit out is entirely nconventional, from the bamboo wall linings, to the lava stone sinks, to the red stone and red kitchen sink and the canoe feature lighting. There are astute features and wooden carvings throughout with many incorporating the actual structure of the building. The pool area nestles between the house and the steep slope and is a world unto itself. There are walking pods over a shallow pool which cleverly conceal a hidden balance tank underneath. It is all fabulously lit at night. This residence is a testament to meeting the specific desires of a client's fantasy holiday destination and the constraints of a difficult site. Every day certainly is a holiday escape in this little wonderland.
Booking:
Bookings open on Wednesday 9 October at 9am. To secure your booking visit this building page, click on the "BOOK NOW" button and follow the prompts through the Eventbrite website. To ensure a fair allocation there will be a limited ticket allocation per person. Bookings will be taken on a first come, first served basis. Pre-booked tours will book out quickly. There will be no waitlists, so if you miss out, please check back in case others cancel.