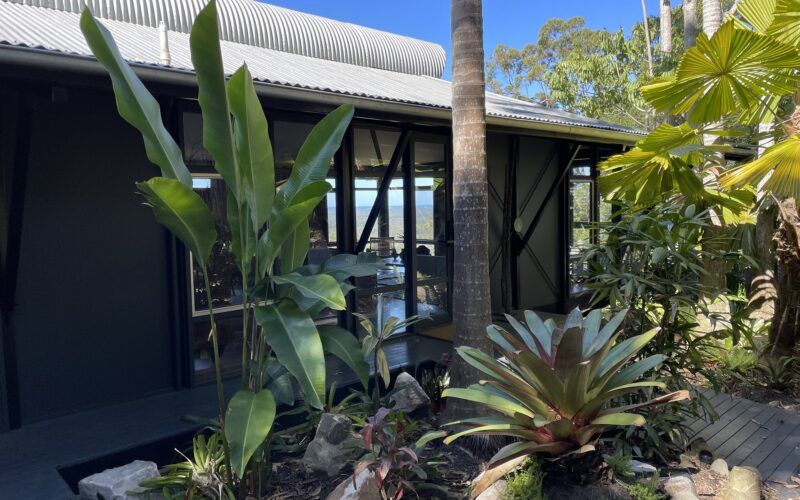 Crew House
Doonan (address confirmed when booking secured)
Precinct:
Noosa / Noosa Hinterland
Crew House was designed in 1985 by the late Gabriel Poole, one of the nation's most inventive architects who profoundly influenced the direction of architecture on the Sunshine Coast and in Queensland. Crew House presents itself as unique from the moment it appears around a steep and hidden driveway. Built using Poole's Quadrapod structural system, the home cantilevers over a cliff and enjoys stunning views across Lake Weyba to Peregian Beach and the ocean beyond. What makes this home truly remarkable is Poole's idea to leave a strip of space in the apex of the ceiling running throughout. The space was filled using a stretched black shade cloth which serves four purposes. It prevents insects from entering the interior, it prevents the roof structure from being visible from inside, it allows heat to escape from the ceiling and it provides an exhaust for pressure build up in the event of a cyclone. With none of the walls reaching the ceiling, the two bedrooms, bathroom and living area define Queensland's architectural ability to inhabit open but defined spaces. The home was lovingly restored in early 2021 in order to give it another 50 years of modern, comfortable living. A truly unique home which lives true to Poole's mantra of being a space in which the soul can play.
Booking:
Bookings open on Wednesday 13 October at 9am. To secure your booking visit this building page, click on the "BOOK NOW" button and follow the prompts through the Eventbrite website. To ensure a fair allocation there will be a limited ticket allocation per person. Bookings will be taken on a first come, first served basis. Pre-booked tours will book out quickly. There will be no waitlists, so if you miss out, please check back in case others cancel.