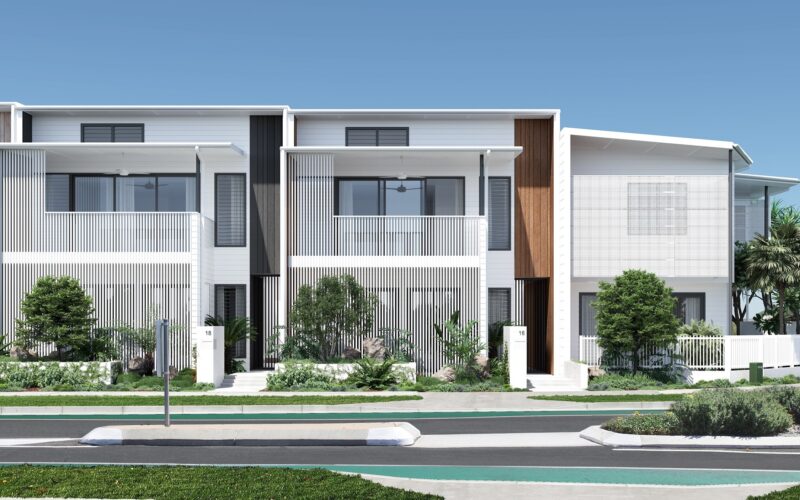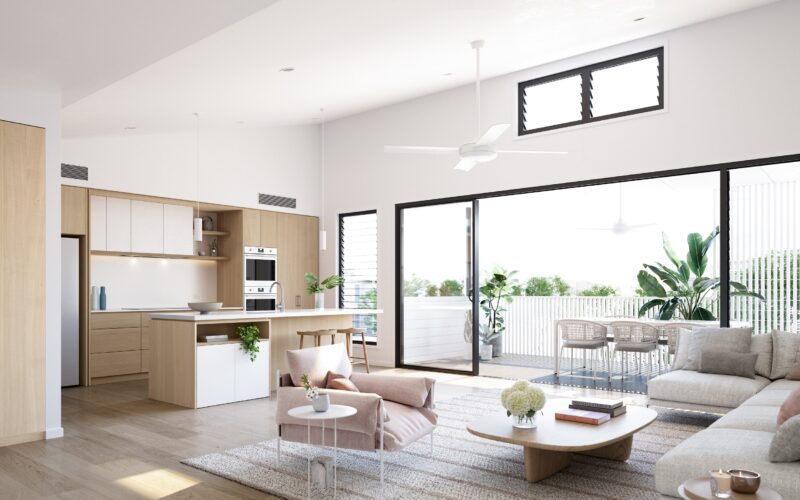 Bokarina 4a Terraces: 'Bells'
Address to be announced.
Architect:
Hollindale Mainwaring Architecture
Hollindale Mainwaring Architecture (HMA) has been developing medium density low rise typologies for Stockland at Bokarina, the new urban area north of Caloundra, for recent years since development began on the brown site. The challenge has been to incorporate the design principles of the "Sunshine Coast School of Architecture", responding to the subtropical climate, coastal context, and privacy issues due to density. Working over decades, HMA has infused design components to harness natural light and ventilation into a typology that traditionally have dark and stuffy interiors. In particular, the use of internal courtyards, ventilated clerestories, high ceilings, 2400 fenestration and the inclusion of a media room space. The layouts exhibit legibility and clear wayfinding. The reasons for the living upstairs and strong privacy elements for rooms downstairs facing the street are that these dwellings overlook a busy road and future sports complex. Vehicular access is via a rear lane. The public have embraced the living lifestyle of these residential products with access to surrounding open space, recreation, and social infrastructure. Bokarina is part of the Sunshine Coast Council's commitment to urban densification, to reduce peripheral urban sprawl developing green belts. The work by HMA at Bokarina is part of the evolution of low-rise medium density typologies to suit the demographic diversity and migration. An earlier product, Bokarina 3, recently won a Queensland Government liveability award demonstrating a strong approach in this precinct towards the so called 'missing middle'.