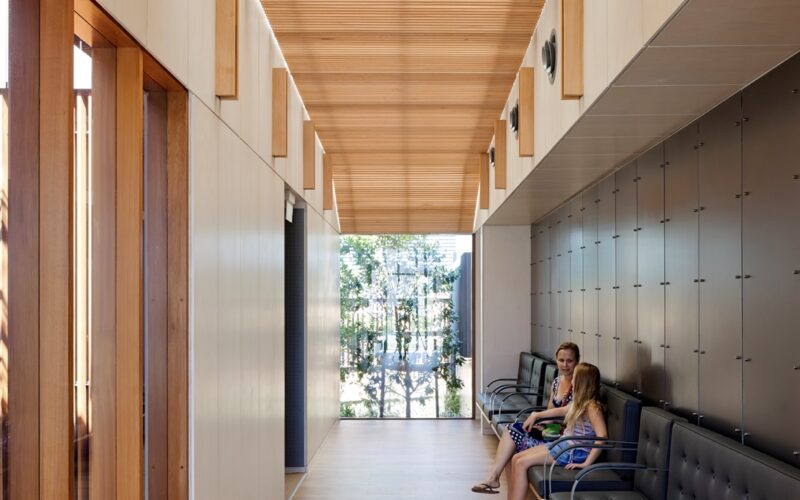 ORMUZ SPECIALIST EYE CENTRE
20 Ormuz Avenue, Caloundra
Architect:
Loucas Zahos Architects
Awards:
2016 - Commercial Architecture Commendation - National Architecture Awards
2016 - Gabriel Poole Award for Building of the Year (Sunshine Coast) - Australian Institute of Architects
The building has been conceptualised around a series of courtyards, giving private outlook and amenity to staff and patients, whilst creating calm and tranquillity in an otherwise busy and high volume practice. A colonnade representative of a "steel forest" defines the edge of the building providing an architectural veil separating the predominant glass façade and interiors from the urban fabric. Structurally, the roof form consists of simple "A" frame trusses inverted to form a flat roof, each truss individually supported by a steel column. The combination of the column repetition together with the inverted trusses, forming a metal clad raked soffit, generate the main façades of the building. The exterior contrasts with the glazed curtain wall and interiors which consist of cedar and ply. The brief required additional commercial space and this has been generated along the main street frontage for maximum exposure and visibility, with the specialist Clinic accessed via a cloister revealing the quantum of the "inverted truss".
Booking:
Bookings open on Wednesday 11 October at 9am. To secure your booking visit this building page, click on the "BOOK NOW" button and follow the prompts through the Eventbrite website. To ensure a fair allocation there will be a limited ticket allocation per person. Bookings will be taken on a first come, first served basis. Pre-booked tours will book out quickly. There will be no waitlists, so if you miss out, please check back in case others cancel.