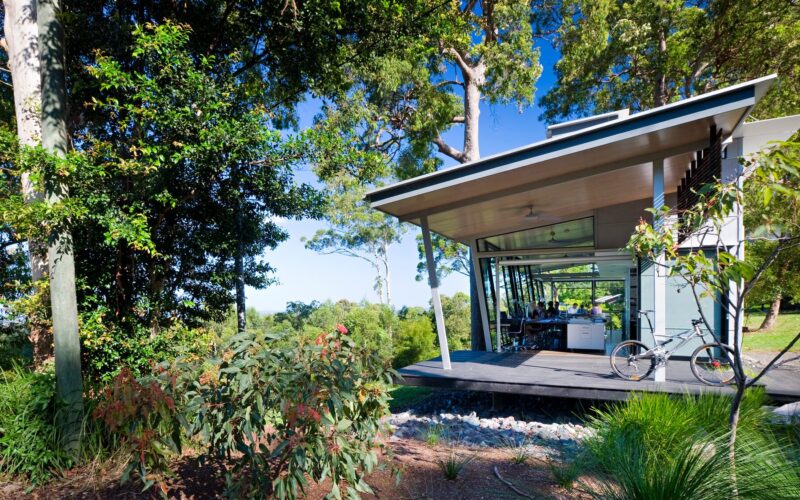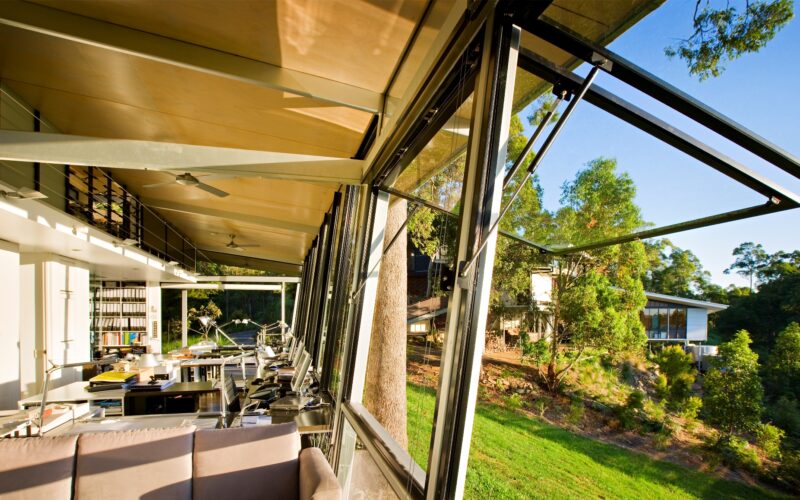 Bark Studio
413 Sunrise Road, Tinbeerwah
Precinct:
Noosa / Noosa Hinterland
Architect:
Bark Architects
Awards:
2003 - Architectural Steel Design Award - ASI
2005 - Sunshine Coast Building of the Year - Australian Institute of Architects QLD
2005 - Beatrice Hutton Award for Commercial Architecture - Australian Institute of Architects QLD
Architects Stephen Guthrie and Lindy Atkin's brief for themselves was to showcase their design approach and philosophies, whilst making an inspiring place to work for the Bark team and their clients. Elevated as a modernist pavilion in the Noosa Hinterland, the Bark Studio is a steel, glass and plywood studio and is the inspiring work environment for their small architectural practice. Perched on only four columns in order to slot between two mature Australian eucalypts, the modular 20 metre long structure of steel portal frames is encased with opening and fixed glazing on three sides, layered with operable blinds for climatic control. The fourth facade is presented as the 'billboard', a plywood clad wooden box facing the road, providing privacy, protection from the western sun, a desired ambiguity of perceived use and a big 'drive-in movie' projection screen. The solid nature of this form is punctured with the 'shop front' display window, horizontal glass slots and is contrasted with the northern timber entry platforms and horizontal roof planes, which provide framing of the landscape and broad views of the Pacific coastline beyond. Eye catching and memorable, the Bark Studio continually surprises and delights users and visitors.