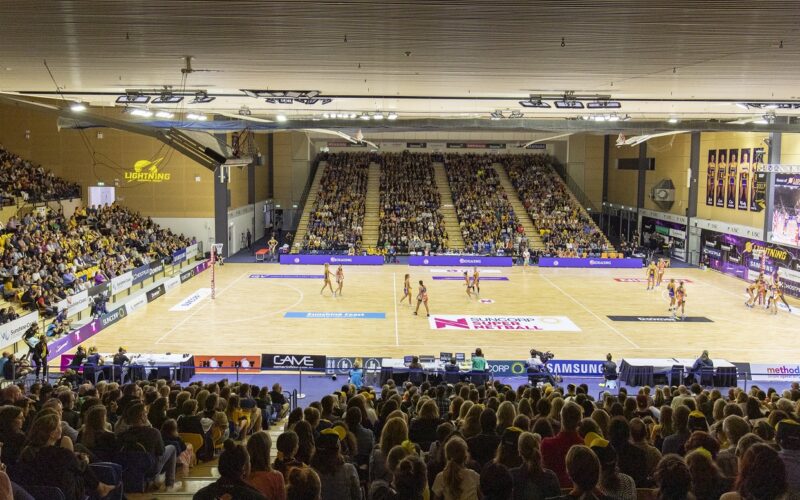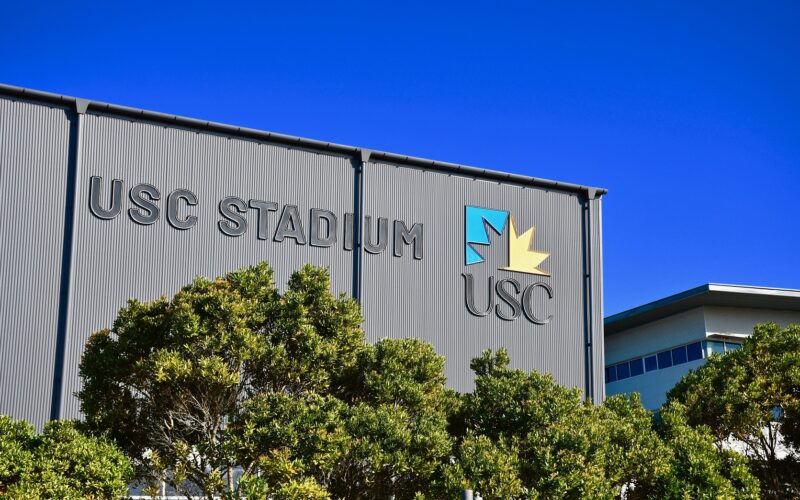 USC STADIUM
Via Sippy Downs Drive, Sippy Downs
Architect:
Ken Down Architects (original building); OGE Group (2017 refurbishment); dwp Group (2019 refurbishment)
USC's indoor Sports Stadium, located at the Sippy Downs campus, is used for University, school, community sporting events and is home to the Sunshine Coast Lightning for training and home games. The Stadium has recently been redeveloped to deliver an enhanced experience for high performance athletes, students, and the community. The national standard facility includes:
3 netball, basketball, volleyball and futsal courts
4 badminton courts
1 international-sized futsal court
1 indoor hockey court
Timber sports thrust floor
Tiered spectator seating
A total floor size of 3,705 square metres
Retractable and fixed seating units with a combined capacity of 3000 seats
Broadcast-quality lighting
1 sport-specific, portable, drop-in floor
Function room
The buildings' most notable feature is its roof, with expansive overhangs that fold to become walls, and fold again to become an awning layer on the lower level. The strong forms of the Stadium and the Health and Sport Centre are both robust and playful, sitting monumentally within the sparse landscape of the Sports Precinct. The need for a low maintenance and long-lasting building meant that metal sheeting was utilised as the dominant cladding material which both facilitated and informed the folding building envelope. The exterior draws reference to the Australian shed as an archetype in its' simple robust form and use of materials while projecting a sophisticated image in keeping with the advanced technology associated with the precinct.