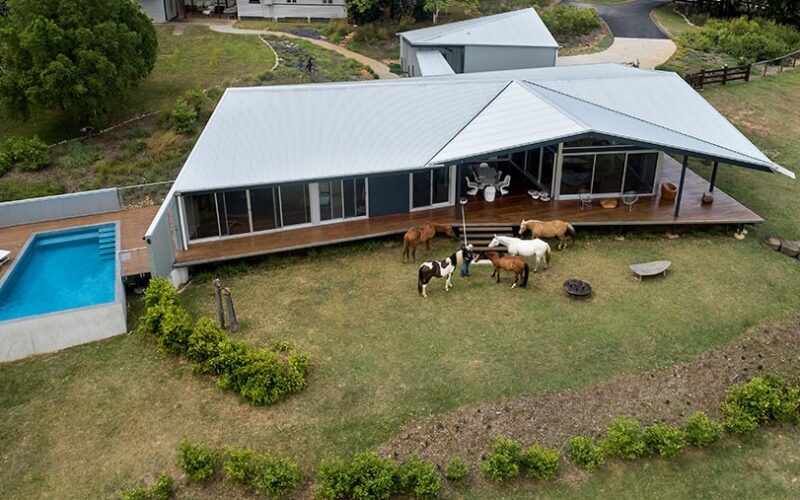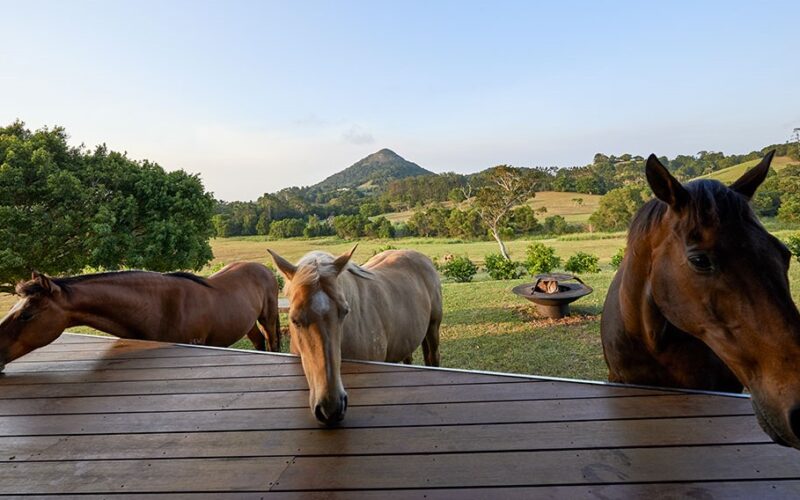 Eumundi House
Eumundi (address confirmed when booking secured)
Architect:
Allen Jack+Cottier (AJ+C)
"Cohabitation with the horses was a driving force in us building a new home here. The herd congregates regularly at the verandah waiting for us; it's one of our greatest joys." On a farm in the Noosa hinterland, AJ+C has designed a series of outbuildings that are both modest in scale and ethically ambitious. Three new structures – a house, a garage and a horse pavilion – dispense with fences and play with rural vernaculars, to forge a close connection between the clients and a herd of brumbies that roam their 30-hectare property. Eumundi House reflects a different approach to rural life. The design maintains an original farmstead and adds two outbuildings: a modest home of one bedroom plus study, and a detached garage. Together with the farmstead, they define the property's domesticated zone without the fences or barricades typical to rural estates. Downhill to the west, a horse pavilion is added beside a large, unfenced paddock, where the owner works with the horses. The lack of fences between house and outbuildings supports the clients' greater landscape projects of habitat regeneration to encourage diversity, and free movement of wildlife and the horses across the property. Their vision is not a wilderness as such, but a place for wildness. New structures reference Australian rural vernaculars in form and materials of corrugated steel and timber. The new house is carved around the site, responding to the landscape, culminating in a high roof gable to the north, framing a view of Mt Cooroy - a significant natural feature of the region. It evolved from a simple shed form of gable roof over orthogonal plan, with the gable roof extending above the living room and north deck. The detached garage is a simpler form, a mediating fragment between the house and original farmstead.
Booking:
Bookings open on Wednesday 12 October at 9am. To secure your booking visit this building page, click on the "BOOK NOW" button and follow the prompts through the Eventbrite website. To ensure a fair allocation there will be a limited ticket allocation per person. Bookings will be taken on a first come, first served basis. Pre-booked tours will book out quickly. There will be no waitlists, so if you miss out, please check back in case others cancel.